Sunday Service COVID-19 Update
Currently all services and groups are meeting online.
Main Service online at 9:15 and 11:00 a.m.
Mandarin Service online groups at 11:00 a.m.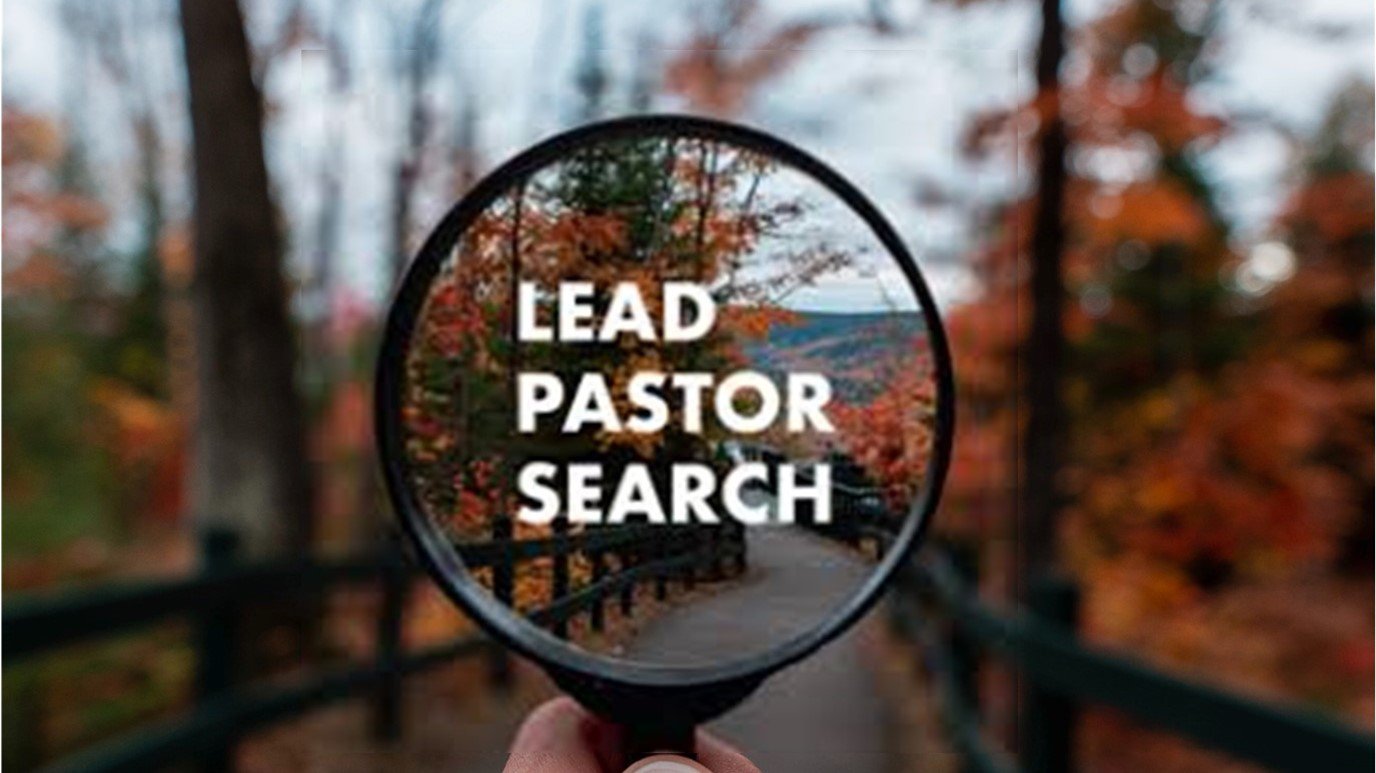 Lead Pastor Search Update
Update on August 23, 2020
Redmond Assembly was served well over the last 20 years by our pastor, who was called to another ministry in the middle of June. The Pastoral Search Committee was formed in order to locate a new lead pastor for our church.
The Pastoral Search Committee consists of our board, the elders, and some members of our congregation. The committee has met regularly since that time and has received and reviewed a number of resumes from prospective candidates.
We recently emailed several candidates a list of questions. We requested that they give us written answers to questions about their philosophy of ministry, leadership style, favorite book of the Bible, best book they've read recently, and other questions. We are now scheduling video interviews with a handful of candidates.
We also want you to know that we are trying to follow best practices in our search for our next lead pastor. That means that we sent a kind letter to each of the candidates who are not moving forward in our process. One candidate even said that was "the nicest declination letter" he had ever received.
We are asking our congregation to continue praying for our search, for the candidates, and for our search committee. We want God's will to be done on earth as it is in heaven.
Erlene Johnson
Pastoral Search Committee Lead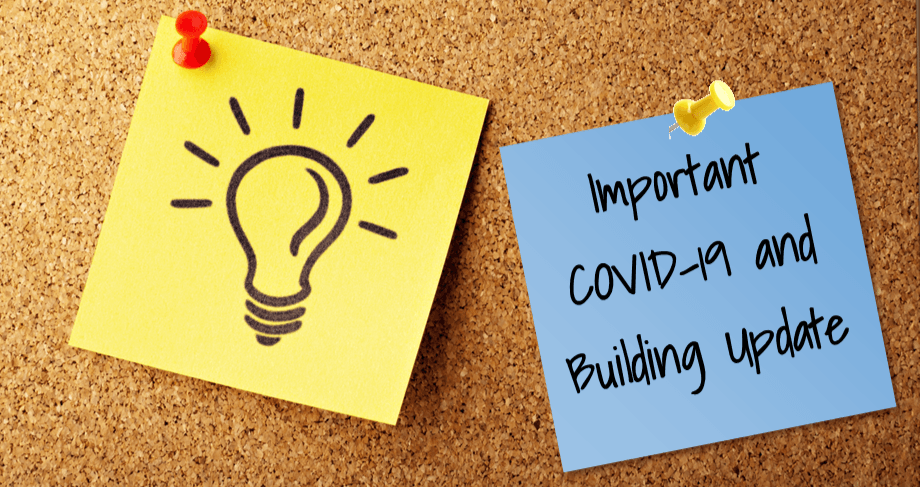 Update on AUgust 21, 2020
We, the Board and Elders, recently met to discuss the re-opening of Redmond Assembly of God facilities to enable meeting on church grounds during this time of uncertainty. We prayerfully and thoughtfully considered the conflicting information regarding containment and safe practices for in-person meetings.
The Leadership has decided to forego any plan to reopen Redmond Assembly of God facilities until at least January 2021.
We have seen the constant flux in the Washington State and King County plans for easing restrictions. We have seen testing showing some small signs of improvement. We have also seen the recent bad news of churches that decided to open and had to close again due to congregants becoming infected.
The Leadership of Redmond Assembly of God cannot, in good stewardship, open the church facilities for services and meetings until county- and state-wide conditions show steady and consistent improvement.
Our primary concerns are for the safety of our congregants and staff and for setting a right example to the Redmond community. These are paramount in our witness for Jesus Christ. In the meantime, we will continue to monitor the situation. The Leadership team will reassess the situation in October as conditions progress and update the church at that time.
Thank you for your patience, concern, and prayers for our church body. If you have questions, please feel free to contact our Board and Elders at leadership@redmondag.org.
Thank you,
Redmond Assembly Leadership Team
Update: Convoy of Hope
Monday, June 8th, 26 pallets of food arrived at our church via Convoy of Hope, giving us the opportunity to support local food programs like Nourishing Network Food Box Program, Redmond Summer Lunch Program, Open Kitchen, and Hopelink — and giving us the opportunity to spread hope in our community!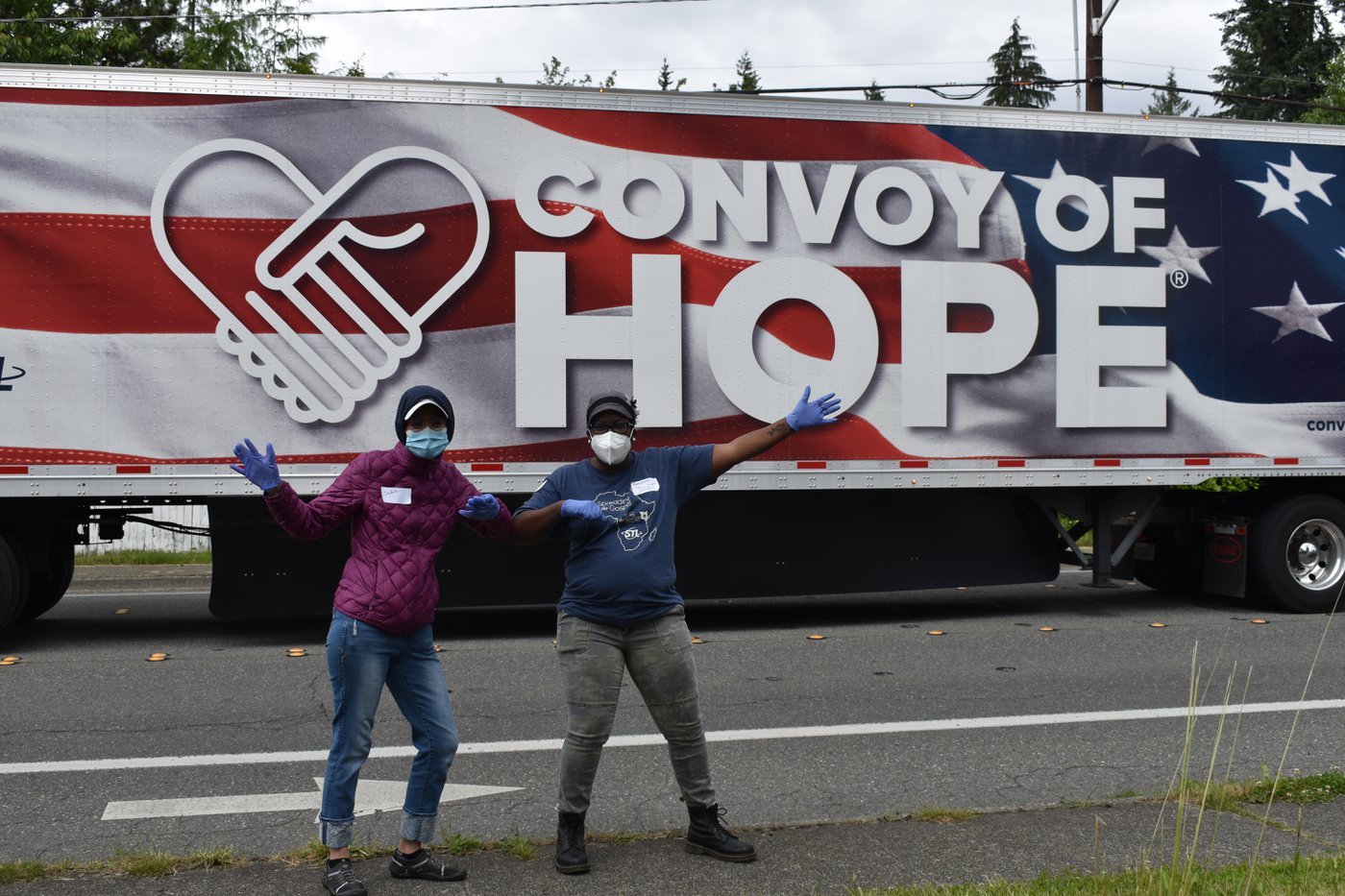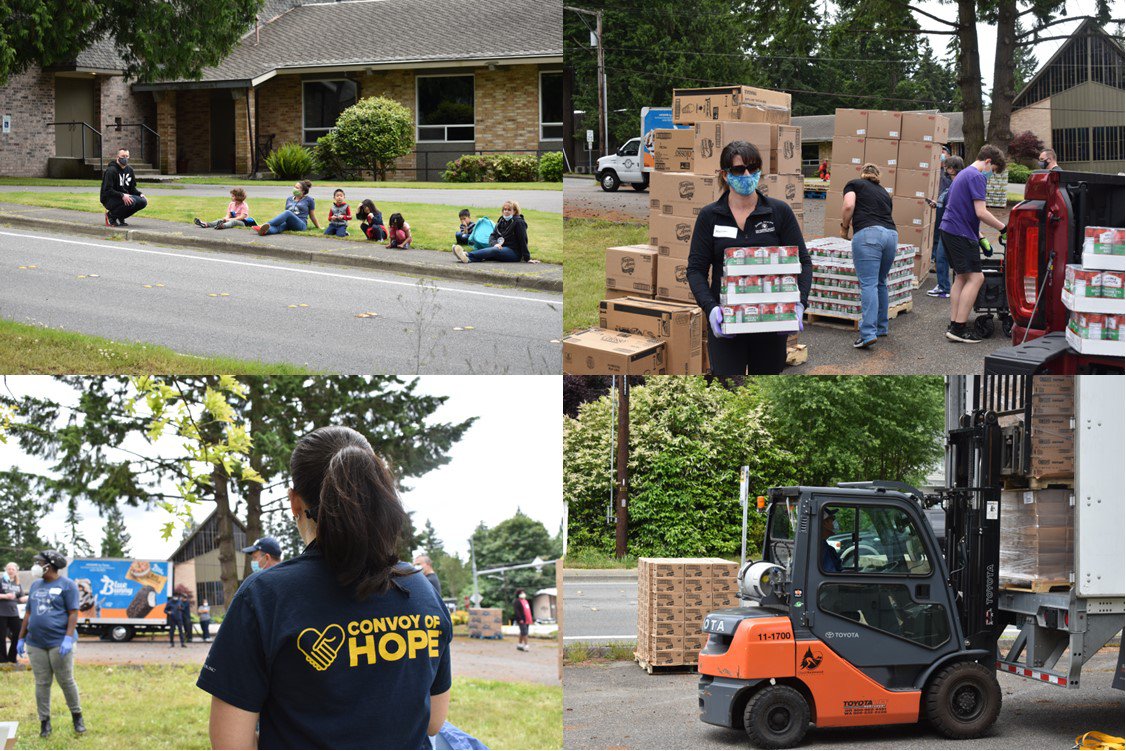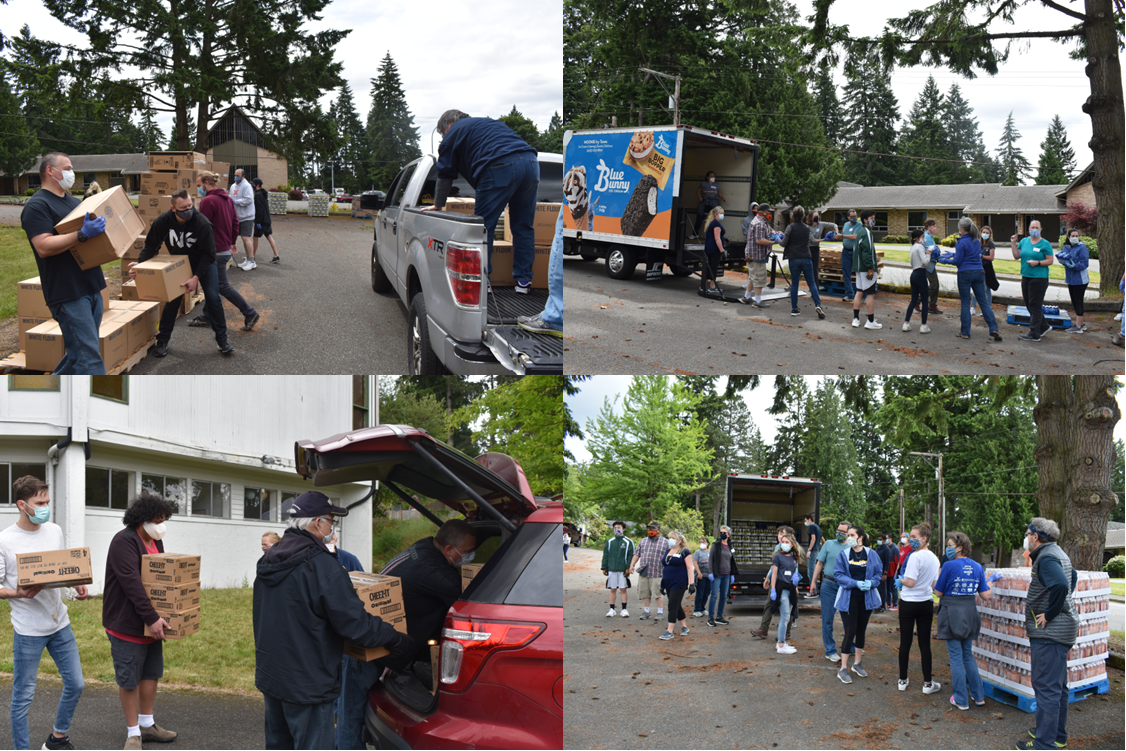 Letters To The Church
Questions and Answers About Robroy and Jackie's Resignation.
Letter posted Sunday, May 17th, 2020.
Q: Why is Pastor Robroy resigning?
A: He and Jackie have felt a stirring in their spirits that a change would be coming for many months. After several months of concentrated prayer with the elders and other trusted advisers, seeking the will of God for the next direction in their lives, they believe that God is calling them away from Redmond Assembly of God.
Q: Why now?
A: Pastor Robroy desired to stay to help the church through the quarantine. However, as we experience continued stay-home orders, Jackie and Robroy perceived that the time has come for them to follow the Spirit's leading. With heavy hearts, they prepare to leave Redmond Assembly after more than 20 years of fruitful and loving ministry here.
Q: When is Pastor Robroy and Jackie's resignation effective?
A: Robroy and Jackie's last Sunday with us will be June 14. We are planning a celebration for that day, so please plan to join us. Consider writing a card of thanks and appreciation to them; be specific about how they have touched your life and family. We will be taking an offering for them on that day to show our appreciation for their many years of service at Redmond Assembly.
Q: Where will Pastor Robroy be going?
A: Pastor Robroy has accepted a pastoral leadership position, but in order to protect the other entity he is unable to disclose the details at this time. He will communicate with us the details of the position when the right time comes and he has been given permission.
Q: How will a new pastor for Redmond Assembly be selected?
A: We are governed by our church legal documents, (Constitution and Bylaws), and they provide specific instructions for the process of selecting a new senior pastor. Here is the process:
The bylaws state, The Board shall be responsible to conduct a search for candidates to fill the position of pastor. The Board shall form a search committee, comprised of the Board, the Elders, and 4 church members in good standing. The Secretary of the Board shall serve as the officer of the committee.
Thus, the committee will include members of the board: Sera George (Vice President), Erlene Johnson (Secretary), Tim Lucas (Treasurer), Autumn Slater, Max Williams, and David Kezia; the Elders: Dan Salinas, Dan Graf, Robin Hayes, Manuel Stephen, and Lori Doornenbal; and four members of the congregation in good standing. As the Secretary of the Board, Erlene Johnson will lead the committee.
This committee will seek counsel from the NW Ministry Network and others. We will set criteria for candidates and follow best practices for a successful pastoral transition. The candidate must be a credentialed Assemblies of God minister. As we search for a new pastor, we will keep in mind our past history, our present circumstances, our mission, purposes, core values, multi-ethnic makeup, and our ministry model. As part of the process, we will review resumes, check references, and select candidates to interview.
We will periodically announce our progress to the congregation, but I'm sure you understand that we will need to keep specific details in confidence until one candidate is agreed upon.
From the interviews, we will ultimately select one candidate to be announced and presented to the congregation.
The candidate will present his or her ministry to the congregation on a Sunday, including the delivery of a sermon to the congregation and a formal interview with the candidate following the service for all interested members of the church. Questions may be asked by any active member. A special business meeting will be held for the purpose of an election. The candidate must receive a 2/3 majority vote of the members present.
This process is proven to work effectively and is the normal method for Assemblies of God churches across the United States.
Q: Who will be eligible to vote for the new senior pastor?
A: Official members in good standing of Redmond Assembly of God who are present at the special business meeting called for this purpose.
Q: What will happen with the rest of our staff?
A: Pastor Chris will be taking a much-anticipated Sabbatical this summer, and he and Morgan will be doing some traveling, but he is excited about coming back in the fall and launching Family Ministries. Pastor Suresh and Pastor Andrew will remain on staff and continue their ministries as they have been. Other staff members intend to stay and support the church during this time.
Q: When will we have a new senior pastor?
A: The pastoral search committee will immediately begin diligently seeking a new pastor. This process could take several months, but we will keep the congregation updated regularly.
Q: Who will lead the church in the meantime?
A: Ray Jennings will be our interim pastor until a new pastor arrives. Ray and Sandy pastored our church about 35 years ago, and he filled in a couple years when Robroy was on Sabbatical. They know and love our church. He will work in conjunction with our preaching team to maintain a regular preaching schedule and will work with the staff in day-to-day operations. He will also help prepare the church for the changes that come with a new pastor. And he will work with the staff and the Care Teams to provide pastoral care for the staff and the congregation.
Q: How can I help?
A: Please pray for the pastoral search committee and allow this process to come to a satisfactory conclusion. Please be patient because thoroughly vetting and interviewing candidates can be very time consuming, and members of the pastoral search team also have families, day jobs, and other obligations to consider, so give them the gifts of encouragement and prayer.
Q: What if I have a friend or relative that I would like to recommend as a candidate to be our new senior pastor?
A: If he or she is a qualified, credentialed Assemblies of God minister, you may encourage him or her to email a resume complete with photo and references to SearchCommittee@RedmondAG.org.
Q: Who can I talk to if I'm struggling with this announcement?
A: We understand that this may be shocking to some of you, and you may find yourself overly sad and grieving about this. If you need to talk to someone about this, please contact me at Erlene@RedmondAG.org or you can contact one of our elders Dan Salinas at DanielGSalinas@comcast.net.
We know that God has a plan, and He's working it out even now.
Blessings,
Erlene Johnson, Pastoral Search Committee Lead
Erlene@RedmondAG.org
Pastors Robroy and Jackie's Resignation
Letter Posted Sunday, May 17th, 2020.
Dear friends,
After 20 years of service to Redmond Assembly we have a lake full of memories. Where each drop of joyful laughter and tears of heartbreaks have filled us to the brim of knowing God's goodness and mercy. He has followed us through each event and enabled us to experience more than we could have dreamed or imagined.
Within recent months we discovered God's fresh journey for our lives and perceived that our time of leading at Redmond AG was beginning to close.
For our entire ministry at Redmond I have spent many hours praying under the balcony in the sanctuary and have felt the Father say these words - Never will I leave you; never will I forsake you. [and] 6 So we say with confidence, [as we enter this time of faith that] The Lord is my helper; I will not be afraid.
Words cannot express nor tears help to see the immense heartache of writing these words. You and others before you have stood beside us through our deepest valleys, stood and shouted jubilation at great successes, led with us through sunny times and rain. Each moment precious in the hands of Jesus where we store up in faith the work we have completed and stand with hope that it brings a lake full of celebration to the Father.
And so, as a resolute step in faith, Pastors Jackie and Robroy Ranger respectfully resign from their leadership positions with Redmond Assembly of God.
May the Lord Bless you and keep you, May He bring you peace.
Robroy & Jackie
REST - An opportunity to help give hope for victims and survivors of sexual exploitation.
Letter posted on Wednesday, May 6th 2020.
REST is a Christian organization that exists to provide pathways to freedom, safety, and hope for victims and survivors of sexual exploitation. As many of us are taking time to clean out our homes you might consider joining our GO team and seeing if you extra items in your home that you could donate to REST. The following are needs they have for their clients moving into their new apartments and for the REST House itself.
Used furniture is totally great. If the item would not fit in the donors car to drop it off to one our community advocates at REST, the REST team could come pick up.
Here is an updated list!
Tents (15-20) *drop in and advocacy team
Tarps (15-20) *drop in and advocacy team
Couches (2)
Living room lounge chairs (3)
Dining room table and chairs (2)
Bedside tables/side tables (5)
Lamps (3-6)
TVs (4)
Coffee tables(2)
TV stands (2)
Queen sized box spring and bed frame (1)
Full size boxspring and bed frame (1),
Dish sets (3-5)
Towel Sets (3-5)
Kitchen utensils (3-5)
Baking Pans (2)
Microwave (2)
Toaster (3)
Laptops (2)
Cleaning supplies
Coloring books
Art supplies
Indoor plants
Vitamins (B12/D)
For further information contact Office@Redmondag.org.
PANDEMIC RESOLUTION
Letter Posted Friday, May 1st, 2020,
Whereas, the President of the United States and the Governor of the State of Washington has declared a state of emergency due to the Covid-19 Virus Pandemic, a virus that has created the need to take unprecedented measures in order to stop the spread of the virus, and
Whereas, pursuant to RCW 24.03.070 and 23B.02.070 regarding Emergency Bylaws, absent any direction to the contrary in Redmond Assembly of God Bylaws, current state law provides for situations such as this, giving the board of directors of Redmond Assembly of God authority to enact special emergency bylaws to accommodate such emergency,
Therefore be it resolved, that the Redmond Assembly of God Board of Directors be granted emergency power by act of this resolution to enact an emergency bylaw provision in the following manner: pursuant to the aforementioned state laws, this board resolves to bypass any and all of the current Redmond Assembly of God Bylaws as needed in order to comply with all federal and state requirements and/or regulations pertaining to meetings or other accompanying standard operating procedure business of the church such as elections, and
Therefore be it further resolved, that the Redmond Assembly of God Board of Directors be granted the power to act in any legal, reasonable, and prudent manner they deem necessary to conduct such business that may conflict with current Redmond Assembly of God Bylaw provisions or requirements, including the suspension of an annual business meeting and other regular business until such a time as the current pandemic is resolved and emergency measures are lifted.
By this action the board of Redmond Assembly of God exercises fiduciary responsibility for protecting the best interests of the church membership, and the spread of the Gospel in this community, and further agrees that this shall be in effect until such time as the Federal or State government determines the current Corona Virus Pandemic state of emergency to be over. At such time, standard operating procedures for church business and compliance with regular Redmond Assembly of God Bylaws will resume.
This resolution is submitted for consideration to the Board of Redmond Assembly of God by the Secretary of the Board, Erlene Johnson, on March 30, 2020 for immediate adoption.
Letter From Northwest Ministry Network (NWMN)
Letter Posted Friday, May 1st, 2020.
Letter Posted Friday 1st May 2020
NWD Pastors and Churches:
The corona virus pandemic and accompanying governmental restrictions have brought about unprecedented challenges to standard church operating procedures, including the ability to follow the church governance documents (Bylaws or Constitution & Bylaws). For example, we have received questions from pastors about:
Interruption of regularly scheduled services when our bylaws prescribe that we are to meet every Sunday, etc.
Bylaws that require an annual business meeting at a certain time and place.
Bylaws that require that elections be done during said annual business meeting.
Bylaws that mention "loyalty to our government" along with questions about when or how we meet for worship.
Essentially, we are facing issues we have never faced before causing dilemmas we have never considered. Richard Hammar, the top church/law expert in the USA and attorney for the General Council of the Assemblies of God, assures us that the current pandemic and governmental restrictions on meetings are not a violation of First Amendment freedom of religious rights, nor do they restrict our freedom of religion. They are a temporary inconvenience to protect the greater good of the citizens from a potential health crisis.
In addition, we have consulted with our local attorney, Caleb Stewart, and he affirms that such measures do not conflict with local or state laws or constitution. Both Hammar and Stewart urge our churches to comply with all emergency measures regarding meetings, and failure to comply places them at great risk.
In addition, for churches in both Washington and Idaho, there are emergency provisions in nonprofit corporate law that give church boards the right to enact "emergency powers" or "emergency bylaws" during a time of national or state emergency. The President of the United States and the Governors of both Washington and Idaho have declared states of emergency at the federal and state level. These declarations and other accompanying mandates about meetings and social distancing give church boards the right to enact "emergency bylaws" that would temporarily bypass any church bylaw that your church is unable to comply with, given the present state of emergency. such a resolution passed by the church board in a duly called official board meeting, the board could navigate issues such as postponing an annual business meeting or elections until such time as it is safe or practical to do so, or implement other processes to mitigate bylaw requirements at their discretion.
Sincerely,
Don Detrick
Associated Network Leader – Secretary/Treasurer
Letter from Ps. Ranger
Letter Posted Early April 2020
Dear Redmond AG Family,
As you are likely aware, things have been rapidly evolving in our community this week regarding the spread of the coronavirus. There were various clear proclamations and mandates yesterday from our US President, WA Governor, King County officials, and CDC. One of those significant mandates is the prohibition of public group gatherings (unless significant measures are taken). Our government officials are taking these steps and implementing these requirements in a proactive effort to help slow the spread of the virus in our community and, most importantly, reduce the number of potential deaths caused by COVID-19.
In light of these recent developments and with much prayerful deliberation, the elders, board and staff have made the decision to temporarily move our Sunday gatherings to streaming online. We will continue to review all local guidance and mandates and continue to provide you with weekly updates that clarify our weekend plans.
How about SUNDAY?
While we will not be formally gathering in person during this time, that does not mean that we will give up meeting. We'll just be moving that meeting style and location to an online format. Our worship gatherings are online via Facebook Live on our RedmondAG account. (Please note that you do not have to have a Facebook account to access or view our public page.) We will also be live on RedmondAG.org. We will have normal service times at 9:15 am which will be the previous week's service and 11 am a streaming live service. The focus of the messages during these Sunday online gatherings will be around providing Biblical truth, insights, and encouragement that will directly address the ongoing emotional and spiritual roller coaster that our community is experiencing. I want to underscore that these live Sunday messages will be a wonderful opportunity to be missional. Please invite any friends, relatives, neighbours and co-workers to join us… be proactive in extending those invitations and most importantly sharing our feed on your Facebook page.
How will we continue to connect?
We are setting up "Leaders of 5" where everyone will be called weekly and checked in. If the church can help provide care, food or assistance we will. If you're interested in helping, please email Office@redmondag.org.
Prayer groups, devotions and sermons will be available online at our website.
Our goal is to set up "zoom rooms" or similar tech where we can see each other face to face, for meetings, prayer and care.
Of course, the telephones still work, and we would enjoy hearing your voice.
Small Groups.
We will leave it to each of our small groups to discern whether or not they will pause in-person meetings during these weeks. If a group continues to meet in a home, please continue to follow the general sanitary/health guidelines that have been recommended. And if you have a cold, cough, or flu-like symptoms, please make the wise choice to skip the small group meeting that week out of respect for others in your group.
Generosity.
And just a reminder that if you typically give a financial offering in person on Sundays, you are also able to do that via online options by clicking here. Or you can text to give at 425.655.7848. Thank you for your ongoing support and worship in that way!
A few last thoughts.
Please know that while we will likely not see much of each other in person through normally scheduled gatherings during this unique and temporary season, myself and our staff will continue to be available to you and praying with you. Please don't hesitate to reach out to any of us via email or phone as needs arise…or if you simply would like to chat.
In and through all of this please remember that we, as disciples of Jesus, are the church. Whether or not we meet in a particular building does not define us as God's church. What does define us is how we worship and shine the light of the Gospel throughout the entirety of the week in all the places that God has planted us around our communities. To that end, I continue to encourage and challenge us all to:
PRAY – Now is the time for us to be all the more fervent in prayer. Pray not just over your own circumstances or our church family, but pray faithfully for our community…for our local and national leaders…and especially pray for those who have yet to discover the true hope, peace, and salvation that can only be found in Jesus. And please continue to pray together by your own initiative (be it via technology or through safe/healthy informal connections in homes).
BE BOLD – Continue to subvert the fearful ways of our world. "Let us hold unswervingly to the hope we profess" (Heb 10:23) and let's look for every opportunity to profess it to our community that has been besieged by such profound fear and anxiety. Being grounded in His peace that goes beyond all understanding (Phil 4:7), let's be the non-anxious presence that is desperately needed in these tumultuous days.
ACTIVELY WORSHIP – Yes, it's an incredible gift when we are able to gather for worship on our typical Sundays…but please remember that our worship always extends into the other 167 hours of the week. That worship includes our personal devotion to Scripture and prayer…and it also includes how we worship God by being His hands and feet in our community. Look for those opportunities to still actively serve others in our community. We are currently looking for ways that we can do this as a whole church too. For instance, we are in conversation with local leaders regarding how we can support families and children during the coming days of school closures.
And lastly, please continue to be safe, wise, and cautious. Be diligent to follow all of the health and sanitary guidelines that have been communicated to us.
"Now may the Lord of peace Himself give you peace at all times and in every way. The Lord be with all of you." (2 Thess. 3:16)
In Christ,
Pastor Robroy & Your Leadership Team
QUESTIONS? THOUGHTS? WE'D LOVE TO HEAR FROM YOU!