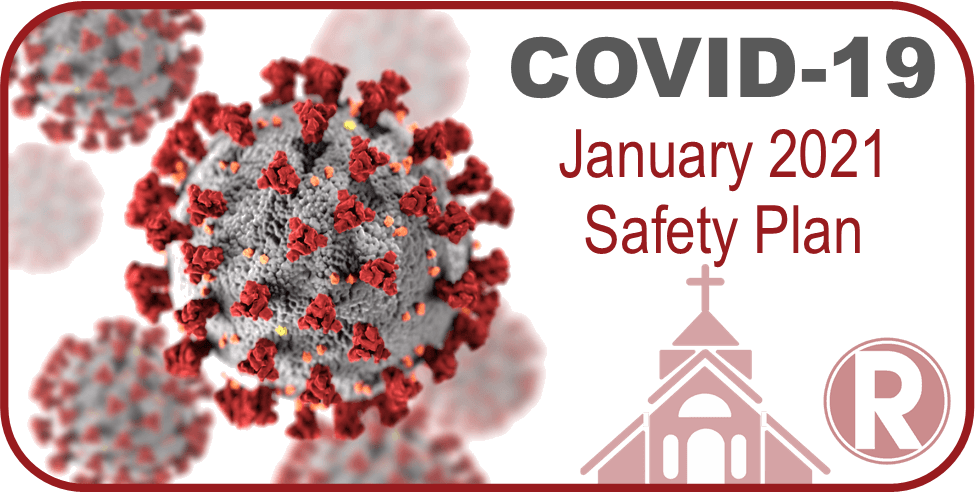 January COVID-19 Plan
Update on January 8, 2021
COVID PLAN FOR IN-PERSON SERVICE
FOR REDMOND ASSEMBLY OF GOD
(January)
Redmond Assembly of God will have in-person services each Sunday at 11:00am, for all members, attendees, and visitors. This we know: that you all will be excited to see each other since we haven't been together in person for many months. However, we want you to be safe, so we plan to follow all government regulations and restrictions for COVID. We will maintain social distancing at all times, and masks will be required throughout the service and other events of the day. Please plan to stay home if you are sick or have been exposed to sick people. Your health and safety are important to us.
The following is our detailed plan for In-person services to maintain the safety of all attendees.
OVERVIEW
· Social distancing will be maintained throughout the event.
· Health and safety are priorities.
· Attendance is limited to 100 attendees.
SOCIAL DISTANCING
Entryways: Both main entrances will be used. Some attendees will be encouraged to park near and enter through the front door. Others will enter as usual through the back door. All other entrances will be closed to attendees. There will be sign-in sheets at both entrances. Social distancing will be encouraged in both areas. The floor will be marked at 6-foot intervals to encourage social distancing. Ushers will be placed in strategic places (near the stairwells, restrooms, and blue room) to direct traffic, encourage social distancing, and discourage congregating.
Sanctuary: King County is currently in Phase 2, which allows churches to "hold indoor services at a place of worship with up to 25% of room capacity or up to 200 people, whichever is less, so long as six feet of physical distancing can be achieved between households in all directions." Chairs have been removed from the sanctuary to accommodate this physical distancing. "Members of the same household may be seated together as a single unit." The maximum occupancy of the sanctuary is 400. Therefore, we can accommodate up to 100 people (excluding staff but volunteers will be added to max count). No other rooms besides the sanctuary will be used for the service.
Restrooms: The restrooms located closest to the sanctuary will be available. All other restrooms will be closed to attendees. The middle stall will be closed, and occupancy will be limited to 2 people at a time in the restroom. Ushers will monitor restrooms to ensure social distancing is maintained.
HEALTH AND SAFETY
Signs: Each main entrance will have signs regarding face coverings and other COVID safety measures, as recommended by the CDC.
Masks: All attendees must wear face coverings throughout the event. Please wear a mask upon arrival at the building. Extra one-time use masks will be available at the entrances for those who do not have one. Speakers on the platform are also required to wear masks.
Note: There are some exemptions to the Department of Health order, including people with certain disabilities or health conditions, people who are deaf or hard of hearing, and children under the age of 2. Children younger than two years old should not wear face coverings. Children ages 2 to 4 should wear face coverings with adult supervision, and children five and older are required to wear face coverings.
Sign-in: Sign-in sheets will be available at the front and rear entrances. These sign-in sheets will serve as a log for COVID contact tracking. The sign-in sheets will be retained for a minimum of two weeks. Volunteers will assist at the sign-in tables and will wear gloves. Clean pens will be available for attendees and will not be shared.
Temperature Checks: Attendees are encouraged to check their temperature before attending. No-contact thermometers will be available at each sign-in table, and volunteers will check the temperature of each attendee upon entry to the building. "Any individual with a temperature of 100.4°F will not be permitted to attend the service."
COVID-19: "Any individual with a household member who has been diagnosed with COVID-19 or with symptoms of COVID-19 (including a fever above 100.4°F) may not attend the service." Please plan to stay home if you are sick or have been exposed to sick people.
Health Screening: At the sign-in table, attendees will be asked a series of questions regarding their health and any recent known exposure to COVID-19. Those who have symptoms or who have recently been exposed to anyone with COVID-19 symptoms will not be permitted to attend the service.
High-Risk Individuals: Those who are at high risk are encouraged to stay safe at home and join us via our live-streams on Facebook and on our web site.
Tissues and Trash Cans: Tissues and trash cans will be placed throughout the location, per government recommendations.
Disinfectants: Disinfectants (hand sanitizer) will be available throughout the building. We will disinfect high-touch surfaces regularly. Frequent hand washing is encouraged, particularly for all volunteers.
Food and Drink Prohibited: No food or drinks will be served at the service.
Singing: Singing is not permitted. A solo artist is permitted on stage. No band or choir. A single vocalist may be accompanied by a single instrument.
All Attendees
Members: Redmond Assembly of God is inviting all ages to attend in-person service's each Sunday at 11:00am. All attendees will remain in the sanctuary for service. No other rooms will be used to watch service.
Children and Teens: Kids and Teens are welcome to attend service in the sanctuary, but note there will be no children's ministry in the building until 2021. Our regular Online Kids Church will be streamed as usual at 10am.
STAFFING
Volunteers: Volunteers will assist throughout the event. Volunteers will follow all precautions named above and will urge all attendees to do the same.
Supervisor: Ps. Chris Douglas is the designated "location-specific COVID-19 supervisor… to enforce the COVID-19 safety plan" as required. Contact him at Chris@RedmondAG.org for any questions regarding this COVID-19 safety plan.
In-person services are now planned for every Sunday and will continually be evaluated to be in compliance with regulations and health guidelines.
All quotes above come from the government document entitled "Phase 1, Phase 2, and Phase 3 Religious and Faith-based Organization COVID-19 Requirements", available here:
https://www.governor.wa.gov/sites/default/files/COVID19%20Phase%201%20to%203%20Religious%20and%20Faith%20Based%20Organization%20Guidance.pdf?utm_medium=email&utm_source=govdelivery
The CDC offers more information about maintaining safety for communities of faith at this site: https://www.cdc.gov/coronavirus/2019-ncov/community/faith-based.html?CDC_AA_refVal=https%3A%2F%2Fwww.cdc.gov%2Fcoronavirus%2F2019-ncov%2Fphp%2Ffaith-based.html
QUESTIONS? THOUGHTS? WE'D LOVE TO HEAR FROM YOU!