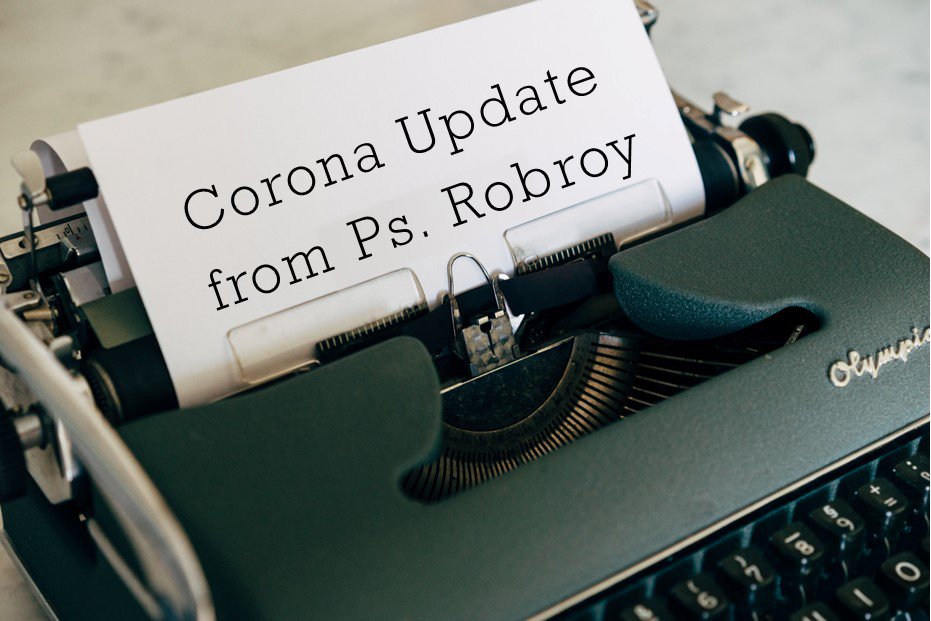 A Letter from Ps. Robroy Ranger
LETTER POSTED EARLY APRIL 2020
Dear Redmond AG Family,
As you are likely aware, things have been rapidly evolving in our community this week regarding the spread of the coronavirus. There were various clear proclamations and mandates yesterday from our US President, WA Governor, King County officials, and CDC. One of those significant mandates is the prohibition of public group gatherings (unless significant measures are taken). Our government officials are taking these steps and implementing these requirements in a proactive effort to help slow the spread of the virus in our community and, most importantly, reduce the number of potential deaths caused by COVID-19.
In light of these recent developments and with much prayerful deliberation, the elders, board and staff have made the decision to temporarily move our Sunday gatherings to streaming online. We will continue to review all local guidance and mandates and continue to provide you with weekly updates that clarify our weekend plans.
How about SUNDAY?
While we will not be formally gathering in person during this time, that does not mean that we will give up meeting. We'll just be moving that meeting style and location to an online format. Our worship gatherings are online via Facebook Live on our RedmondAG account. (Please note that you do not have to have a Facebook account to access or view our public page.) We will also be live on RedmondAG.org. We will have normal service times at 9:15 am which will be the previous week's service and 11 am a streaming live service. The focus of the messages during these Sunday online gatherings will be around providing Biblical truth, insights, and encouragement that will directly address the ongoing emotional and spiritual roller coaster that our community is experiencing. I want to underscore that these live Sunday messages will be a wonderful opportunity to be missional. Please invite any friends, relatives, neighbours and co-workers to join us… be proactive in extending those invitations and most importantly sharing our feed on your Facebook page.
How will we continue to connect?
We are setting up "Leaders of 5" where everyone will be called weekly and checked in. If the church can help provide care, food or assistance we will. If you're interested in helping, please email Office@redmondag.org.
Prayer groups, devotions and sermons will be available online at our website.
Our goal is to set up "zoom rooms" or similar tech where we can see each other face to face, for meetings, prayer and care.
Of course, the telephones still work, and we would enjoy hearing your voice.
Small Groups.
We will leave it to each of our small groups to discern whether or not they will pause in-person meetings during these weeks. If a group continues to meet in a home, please continue to follow the general sanitary/health guidelines that have been recommended. And if you have a cold, cough, or flu-like symptoms, please make the wise choice to skip the small group meeting that week out of respect for others in your group.
Generosity.
And just a reminder that if you typically give a financial offering in person on Sundays, you are also able to do that via online options by clicking here. Or you can text to give at 425.655.7848. Thank you for your ongoing support and worship in that way!
A few last thoughts.
Please know that while we will likely not see much of each other in person through normally scheduled gatherings during this unique and temporary season, myself and our staff will continue to be available to you and praying with you. Please don't hesitate to reach out to any of us via email or phone as needs arise…or if you simply would like to chat.
In and through all of this please remember that we, as disciples of Jesus, are the church. Whether or not we meet in a particular building does not define us as God's church. What does define us is how we worship and shine the light of the Gospel throughout the entirety of the week in all the places that God has planted us around our communities. To that end, I continue to encourage and challenge us all to:
PRAY – Now is the time for us to be all the more fervent in prayer. Pray not just over your own circumstances or our church family, but pray faithfully for our community…for our local and national leaders…and especially pray for those who have yet to discover the true hope, peace, and salvation that can only be found in Jesus. And please continue to pray together by your own initiative (be it via technology or through safe/healthy informal connections in homes).
BE BOLD – Continue to subvert the fearful ways of our world. "Let us hold unswervingly to the hope we profess" (Heb 10:23) and let's look for every opportunity to profess it to our community that has been besieged by such profound fear and anxiety. Being grounded in His peace that goes beyond all understanding (Phil 4:7), let's be the non-anxious presence that is desperately needed in these tumultuous days.
ACTIVELY WORSHIP – Yes, it's an incredible gift when we are able to gather for worship on our typical Sundays…but please remember that our worship always extends into the other 167 hours of the week. That worship includes our personal devotion to Scripture and prayer…and it also includes how we worship God by being His hands and feet in our community. Look for those opportunities to still actively serve others in our community. We are currently looking for ways that we can do this as a whole church too. For instance, we are in conversation with local leaders regarding how we can support families and children during the coming days of school closures.
And lastly, please continue to be safe, wise, and cautious. Be diligent to follow all of the health and sanitary guidelines that have been communicated to us.
"Now may the Lord of peace Himself give you peace at all times and in every way. The Lord be with all of you." (2 Thess. 3:16)
In Christ,
Pastor Robroy & Your Leadership Team
QUESTIONS? THOUGHTS? WE'D LOVE TO HEAR FROM YOU!